For select screenings only, members of the Soil Community can show this badge at the box office to get a discount to the screening of Symphony of the Soil. See list of participating theaters below. Discount Tickets are only available through the Box Office (not available online or via telephone sales).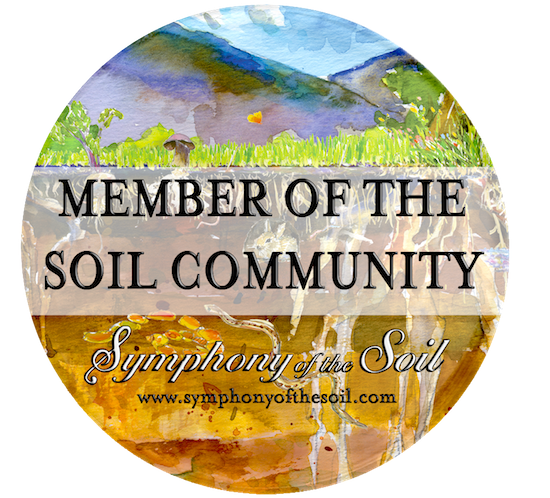 CHICAGO: FACETS CINÉMATHÈQUE
1517 W. Fullerton Ave. in Chicago
800.331.6197
Tickets: $9 General Admission; $7 for Soil Community Members
Showtimes:
Fri., Oct. 4 at 6:30 & 9 pm
Sat.–Sun., Oct. 5–6 at 4, 6:30 & 9 pm
Mon.–Thurs., Oct. 7–10 at 7 & 9 pm
Producer/Director Deborah Koons Garcia will in person for a Q&A after all screenings on Friday – Sunday, Oct. 4 – 6.
Jim Slama of Family Farmed will be in attendance for QandA on Saturday, October 5 evening programs.
NEW YORK: QUAD CINEMAS
34 W 13th St  New York, NY 10011
(212) 255-2243
Tickets: $11 General Admission; $8 Soil Community Members
Showtimes: 1:00pm | 3:35pm | 6:40pm | 9:10pm
Special QandA:
Friday, October 11 (after the 6:40 and 9:10 evening program)
Deborah Koons Garcia, Producer/Director
Dr. Igancio Chapela, UC Berkeley Microbial Biologist
Saturday, October 12 (after the 6:40 and 9:10 evening program)
Deborah Koons Garcia, Producer/Director
Dr. Igancio Chapela, UC Berkeley Microbial Biologist
Dr. Michael Hansen, Senior Scientist Consumers Union
Sunday, October 13 (after the 6:40  evening program)
Deborah Koons Garcia, Producer/Director
Dr. Igancio Chapela, UC Berkeley Microbial Biologist
Contact The Quad Cinema for advance tickets
212-255-2243
34 West 13th Street | New York, New York 10011
LOS ANGELES: MUSIC HALL 3 BEVERLY HILLS
9036 Wilshire Blvd.
Beverly Hills, CA 90211
310-478-3836
Showtimes 12:00 | 2:30 | 5:00 | 7:30 | 10:00